Deramic's Clay Studio
HOME ABOUT POTTERY SCHEDULE PHOTOS CONTACT
About the Potter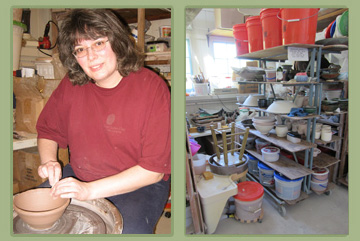 When I was 6 years old, my mother would bring home greenware made from molds to "paint" . Occasionally she would allow me to "paint" a bunny or frog. The "paints" were actually glazes that looked mostly white and brown. A few weeks later she would bring it back home and it had magically transformed to the colors I wanted.

Many years later a friend talked me into taking a ceramics class in high school. I thought that I would be doing the same thing. Instead of walking into a room full of small bottles a glaze and greenware, there were 5 gallon buckets of glaze, a 32 gallon can full of clay and potter's wheels.

After getting over the shock, I went to work making a pot. I wedged the clay, squished it, pinched it, poked it, and after an hour or two I had a pot. After it was bisque fired, I painted red iron oxide on the outside and glazes the inside. It was glaze fired and I had my first pinch pot. I was hooked.

I have been playing in the mud ever since and have been slowly acquiring equipment and materials for my pottery studio. Until my home studio is ready I will be working at the Potters' Guild in Wallingford, PA where I have been a member since 2007.
E-mail: deramicsclaystudio@hotmail.com
Phone: 610-394-1066